It's official. Our Christmas shopping has begun. Chances are yours has as well – at least your online gift buying. It seems this time of year gets earlier year-by-year. Much of that probably has to do with the fact that few of us budget for the holiday season, so we buy over the span of 3 months… instead of the 2 weeks prior to Christmas.
All of that said, we wanted to reach out to you with gift buying tips for some of our smallest customers – babies and toddlers. They're rolling over, crawling, walking, and they're in to EVERYTHING. We know. We've been there.
What many people don't know is that many infant and toddler behaviors are imperative to teach gross and fine motor skills. We've done plenty of research on block play and the importance it plays in early development of our children. It can help with everything from shape identification to team building (for those larger block projects).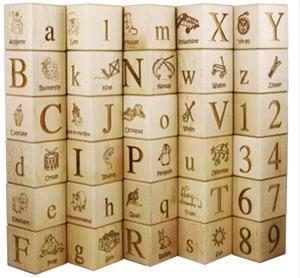 The National Association for the Education of Young Children states that block play is important from infancy all the way through primary grades. Some of the areas in which block play can help:
Problem Solving
Mathematics
Self Expression
Imagination
Creativity
Social and emotional growth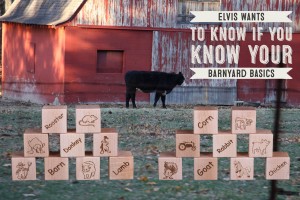 According to Hands On As We Grow, block play can also significantly help with fine motor skills. Be sure to check out their website for fun activities including blocks.
One of the benefits of our blocks beyond the benefits previously mentioned is that they can be used as learning tools. Our ABC Block set hosts letters, numbers and illustrated words. You can imagine that these can come in handy all the way through primary grades.
Likewise, our Barnyard Blocks are perfect for the little one learning animal names and sounds. Our Barnyard Blocks even take it a step further and spell out the animal names. Nothing like raising an early reader/speller!
Remember that our block sets and baby blocks are made from all natural products. The edges of the corners have been rounded off so no sharp edges. All block sets are finished with beeswax instead of stain or clear coat. We all know where new toys go for the little ones – right in the mouth. Might as well give them something that isn't laden with chemicals, right? Our Barnyard Blocks come 9 to the set and our ABC Block Set comes with 30 total blocks.
We know buying for small children can be tough, but these blocks will provide them with hours of enjoyment – and learning!
Until next time, Keep It Craft E!