When 75% of Americans dislike the gifts we pick out for them, that's a clue that we're doing something wrong. REALLY wrong. Think about last Christmas and the gifts you received. How much of that was junk that people got just to fill a stocking? Ever get a shirt or sweater that is the exact style of the person that purchased the gift – but it's nothing you'd actually wear? Yeah, us either.
The truth is that people, for the most part, are awful at picking out gifts unless it's something of a sentimental nature – and even still sometimes then they fall short. So, then, what's the answer?
Growing up, I heard (and still hear) my mother's voice saying, "Don't get a gift certificate. It's so impersonal." Sooo – then do I opt for the automatic change counter? The ever so personal coffee liquor set complete with matching shot glasses? Perhaps the matching hat and glove set. Yes! That has personal written all over it.
If you've followed Craft-E-Family for any amount of time now, you know that we have a plethora of personalized gift options perfect for many different milestones in our lives, but that's not what this is about. This is about gift cards and gift certificates.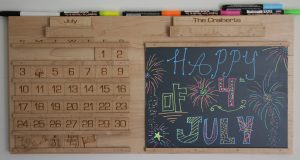 My mother's statement, as previously mentioned, could be true – if you truly give it no thought. On the other hand, let's play out a couple of scenarios. Your sister who is getting married next year is pretty well set financially, so she could buy herself whatever she wanted. You know her style well and you saw our countdown blocks online that would be perfect for her wedding, her bridal shower, eventually – maybe her baby shower and it fits her style perfectly. Oh, wait – the Contemporary Perpetual Calendar fits her style too! Plus it will allow her to make notes of all of the things she still has to do to prepare for each of the events. Which do you get her? Our gift certificates are personalized and we can make them for any amount you would like. Now your sister can buy one or the other – or maybe even both!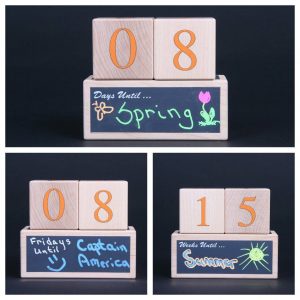 On to your brother. Maybe your brother is an avid camper, but you don't know the first thing about camping, nor do you have the inclination to learn. You don't know what he has or what he doesn't have, but he's always bragging about the newest, latest, greatest camping gadget he bought. Why not step into a sporting goods store and purchase a gift certificate for him there? Maybe he's saving for a kayak and your gift card contribution just put him over the top of what he needed to purchase it. Talk about making someone's Christmas!
When it comes down to it, give that voice in the back of your head a big shoosh. Gift certificates can absolutely be as personal as a gift you hand select. In some cases – far better.
Until next time, Keep It Craft E!