Craft-E-Family's 40 years of history is true to their name. The family-owned and -operated business that began with Lloyd and Joyce Ebert is now operated by their daughter Karry Ebert and her husband Cory Craig — or the Craiberts, as their family and friends know them.

The Eberts began the business back in 1980 with a strong start in baby blocks during the first few decades. Since their official retirement in 2005, the Craiberts have continued this legacy while also adding modernized styles to their inventory. Their eco-friendly personalized products celebrate occasions and serve as loving mementos of great family moments, further reinforcing the company name.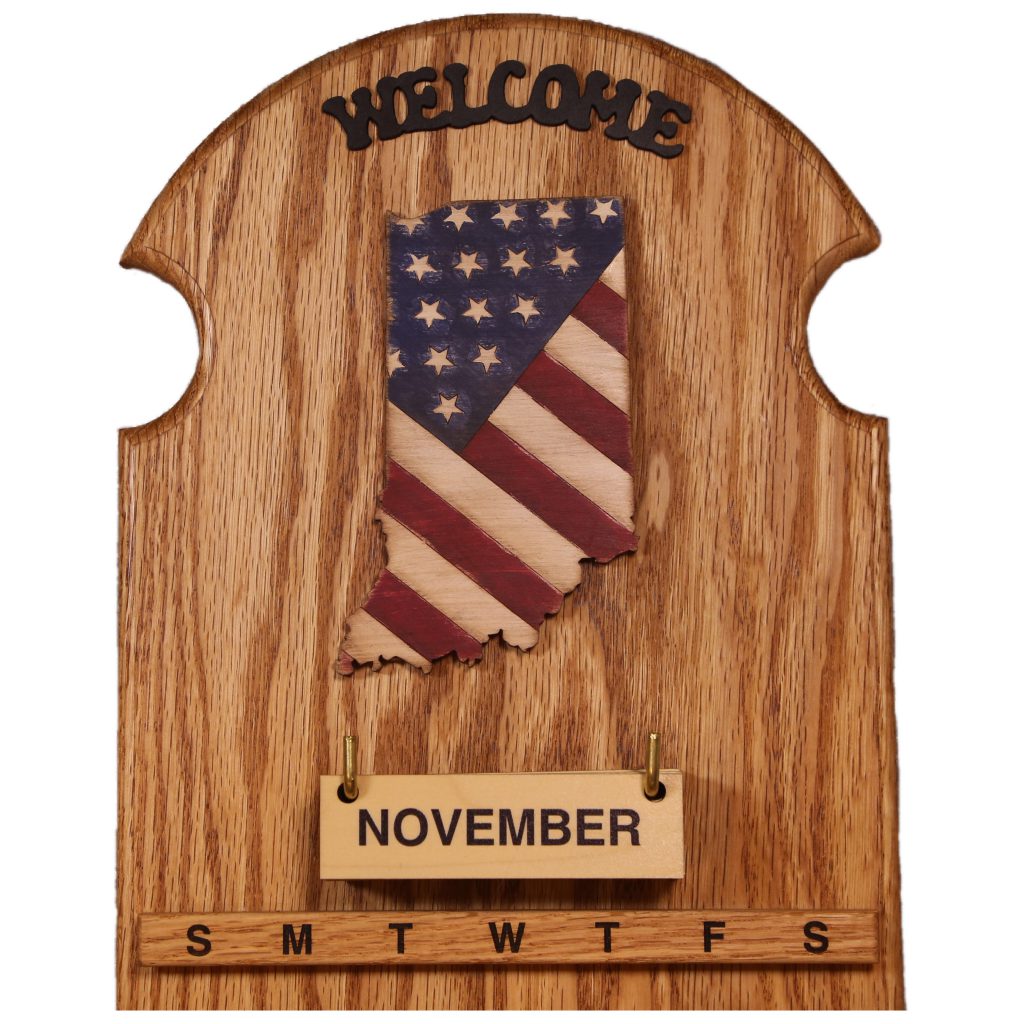 The product that started the business and gave it the needed jump start was Joyce's perpetual calendars. After her and Lloyd retired, they wanted to find a way to combine both their hobbies — Lloyd's being woodworking and Joyce's painting on wood. Thus the perpetual calendars were born and started to sell at local craft shows very quickly.
Yet the item they are most famous for are their baby blocks: a simple two inch cube that has every important detail of a baby's birth elegantly engraved onto each side. The full exposure of the natural wood grain ensures that each one is completely unique in its own way. No two blocks will ever be the same. Thanks to the allure of individuality, these blocks have been gifted to many generations of families.

Baby Block – Traditional

Baby Block – Typeface

Fur Baby Block
Lloyd and Joyce traveled all over the eastern side of the US to show off their products at craft shows and went to a few shows in California for the fun of it. But to this day, they swear that it was in O'Fallon, Illinois that they became so widespread. With the nearby Air Force base, their products were given to military families that helped spread the Craft-E-Family name overseas as they moved around the world. They attended this show for nearly 20 years, and their appearance was always expected. People would line up here, and at other shows, before they had the chance to finish setting up. Their names were so well-known that they eventually befriended the owners of the show and still make personalized blocks for them today.

The relationships that they make with their regular customers are always one thing that surprises and brings joy to the Eberts and Craiberts. Oftentimes when you walk by Karry's office, you can hear her talking to a regular as if they're an old friend — though many have become just that. They see so many families grow and develop, and they cannot help but to feel connected. A few of these friendships established through the company have even branched out to dinner at the Craibert home.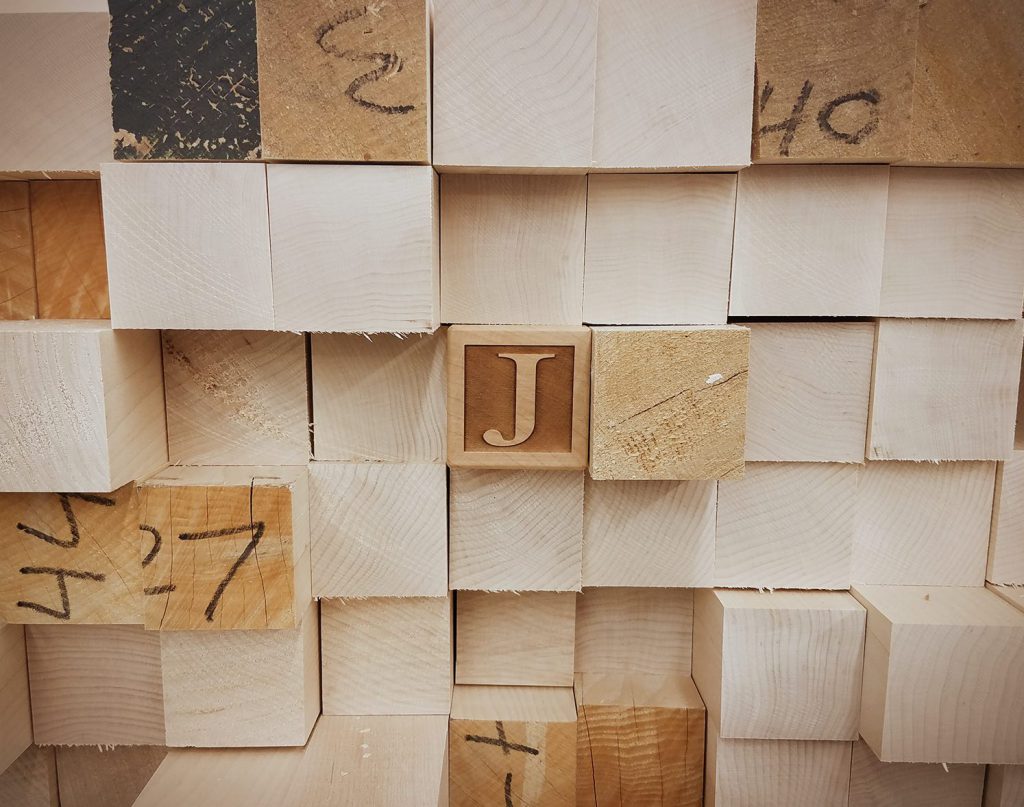 After Lloyd and Joyce's second and final retirement in 2005, Karry and Cory took over the business. They both had been working for Craft-E-Family full-time before this, with Cory developing their online platform. Cory is the person who got the business online and thus changed the form of their orders. Rather than selling at craft shows and talking to any Hoosier they met in hopes of spreading word about the business, people could discover them online and use their website to place orders. This major move further increased their visibility in the world and has worked to improve their production. Cory still manages the website today, keeping up with the increasingly large online demand that has reshaped how the business takes orders.

It was around the time they transferred ownership that Pottery Barn Kids (PBK) reached out to Craft-E-Family and their first major partnership was created. PBK was interested in their Personalized Baby Block and later made an exclusive deal for Christmas ornaments, making both varieties available on their website. Between regular customers and PBK customers, the workspace begins to look more like Santa's workshop during the fall months thanks to ornament orders. PBK helped increase their online sales all across the board as their name continues to spread.

Today when you walk into the office, you are immediately surrounded by the buzz of the lasers etching and the dulled sound of saws coming from the woodshop side of the building. Their dalmatian Petunia is the official full-time greeter, with her main mission being to beg for any food that you may have. If you do not have any food, then petting is in order. And for those wondering, being a dog-person is a must when working for Craft-E-Family.

The workspace is not enormous; rather, it is just the right size for their small crew and large production. All the employees are at ease as they complete their work in a timely manner, and it is common to hear them all joking around as they work. Everyone loves what they do and they work as a team to saw, sand, polish, laser engrave, and inspect every piece of wood that is shipped out for their customers.

Many of their employees have been family members. The Craiberts do not shy away from taking on family and training them to do the work. From parents, siblings, "kids" (who are actually young adults despite their parents' insistence), grandkids, cousins, nieces, and nephews — everyone in the family is allowed to participate in the making of Craft-E-Family products. They also like to hire outside individuals, finding people who are enthusiastic about woodworking and making sure they are treated just like family. Their zeal for the craft is so palpable that when they acquired a new band saw in 2019, they considered creating a baby block dedicated to it.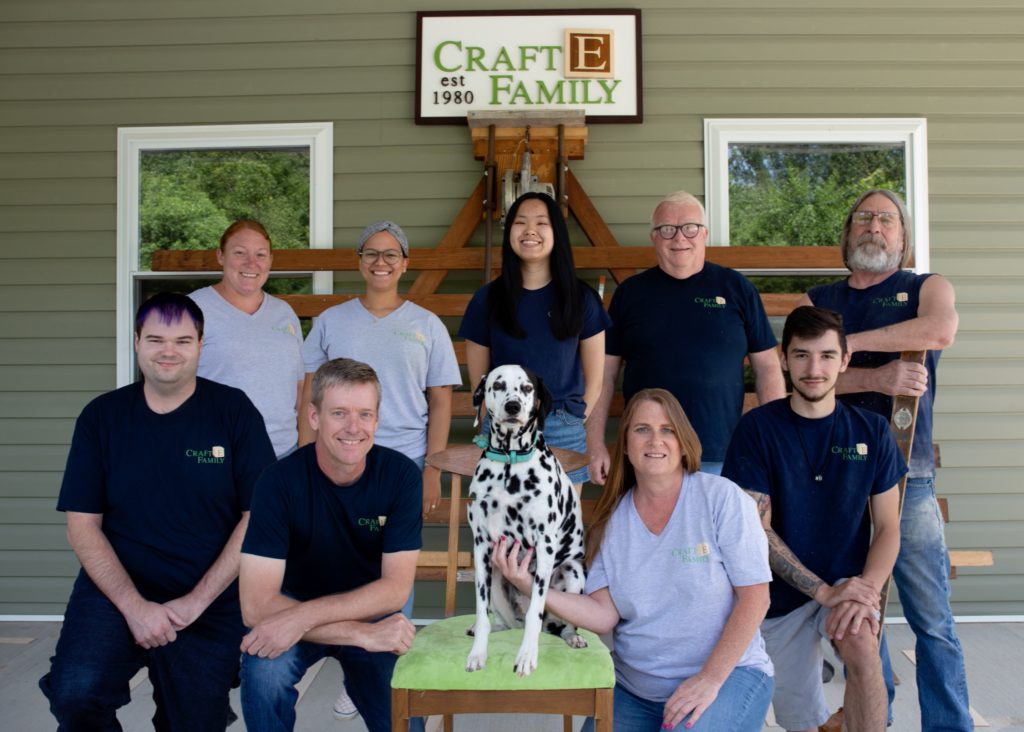 The materials for their products are locally sourced and 100% natural. Often, they will use poplar trees from the acres of land that the workshop sits on to create their ornaments and bug boxes. They are the kind of people who are excited when a windy storm knocks down a tree, as long as the power does not go out in the process. The other types of lumber they use, including maple and oak, are often shipped in from the midwest to reinforce the strength of local businesses. Along with this, a large number of their other materials come from small businesses, including their locally-sourced beeswax that is used as a finish on a number of products.

Maintaining a small footprint is a main goal of theirs, and this is one of the many reasons they stay local for their materials. Less fuel is used to acquire it, and the materials they receive can be trusted to be natural. To top it off, they never have woodwaste. All of their wood scraps are kept for potential use in future projects, used as firewood, or repurposed as doggie chew toys for Petunia. All around the office and woodshop are large bins of scrap wood that no one dares to part with, and when those bins overflow they go to an even larger bin. For the gigantic mess of sawdust that is created during the production process, they often turn to composting. They combine the collection from the shop with household composting and send it out to the woods that surround their property to ensure the flora will be healthy for generations to come.

Building off of this green production, they have committed to reducing unnecessary paper waste during their shipment process. Their shipping boxes, gift wrap, and gift tags are all made from recycled or reclaimed materials, and they have omitted invoices in their shipments to reduce paper usage. Any recyclable goods that are left at the end of the week are taken to recycling bins in the Town of Mooresville to ensure that nothing is left behind.

While Craft-E-Family doesn't have a brick-and-mortar store, their full inventory is available on their website (craftefamily.com) and they partner with local businesses to sell their products. Their full inventory includes a large array of personalized items, including baby blocks, coasters, picture frames, beer caddies, and fun whatnots that will make any kid or adult happy. If you stop by Black Sheep in Irvington, you might see some designs that are special to the area.

In cases of their designs not quite meeting a customer's desires, they are willing to do custom artwork. Karry always handles creating the custom artwork, and, when in need, artists run in the family so they are never left shorthanded. Along with this, a good amount of the artwork gracing their products was designed by someone in the family. Just like the original artwork done by Joyce, the name of being creative continues on through the generations.

Craft-E-Family truly embodies what it means to be a small-town family business while working with customers from across the United States and beyond. Here's to 40 years with this crafty family.