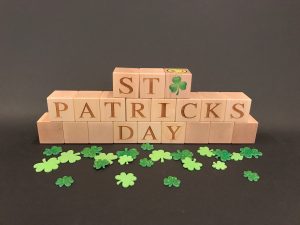 It seems like just yesterday we were celebrating New Years, and now today it's March! This means our favorite Irish holiday is coming up quickly this year, and we cannot wait for the food. Since Saint Patrick's Day can sometimes be an underappreciated holiday, we feel the need to make up for this by cooking our favorite dishes. Irish Stew made with Guinness, Guinness Chocolate Pudding, and Guinness Chocolate Cupcakes are recipes that definitely top our Irish list. We also cannot resist adding an Asian twist to corned beef and cabbage with cabbage rolls! We love our food around here, especially Guinness (of course the beer is Irish!) and Asian foods, and we can never celebrate a holiday without special food! If any one of these dishes interests you, I've added a link for recipes below. We're also open to any suggestions! We love to spread ideas for celebrating. To celebrate with us even more, our Holiday Blocks spelling out St. Patrick's Day are great for decoration! You could create a beautiful dinner table with our Irish recipes (or your own) with these blocks as center pieces, or you could even just set them up in a room to add a little festivity. Just make sure you remember to wear green!
Also don't forget you can get the little ones their own personalized St. Patrick's Day Blocks 🙂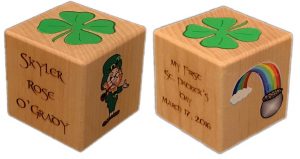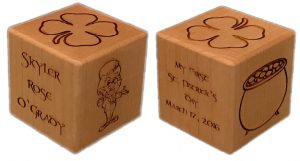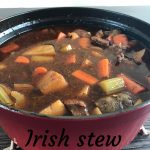 Click Here for Irish Stew Recipe
Ingredients
1 lb Stew Beef
2 Tbsp Extra Virgin Olive Oil
1/4 Cup Flour
6 Garlic Cloves Chopped
3/4 Cup Red Wine
1 Bottle Guinness
5 Cups Beef Stock
3 Tbsp Tomato Paste
1 1/2 Tbsp White Sugar
3 Tbsp Worcestershire Sauce
1 Tbsp Dried Thyme
2 Bay Leaves
2 Tbsp Butter
2 Russet Potatoes Cut into 1/2″ pieces
3 Red Potatoes Cut into 1/2″ pieces
3 Stalks Celery Chopped
2 Cups Carrots Cut into 1/2″ pieces
1 Onion Chopped
1 Tbsp Corn Starch + 1 Tbsp water
Salt and Pepper to taste
Directions
Heat the olive oil in large skillet, medium-high heat.
Salt and pepper beef, dust with flour and sauté until brown on all sides, about 5 to 7 minutes. Transfer to dutch oven or heated crockpot. May have to do in several batches (don't crowd pan when browning).
Add garlic and sauté another minute, until fragrant.
Deglaze pan with red wine, add Guinness, beef stock, tomato paste, sugar, worcestershire sauce, thyme and bay leaves.
Stir to combine and bring the mixture to a simmer, then transfer to beef.
In skillet, melt the butter over medium heat. Add the potatoes, celery, onion and carrots, sautéing until golden, about 10 minutes.
Add vegetables to beef mixture.
Bake in oven 350 degrees for about 1 hour until vegetables and beef are tender.
If juices need to be thickened add (mix 1 tablespoon cornstarch with 1 tablespoon cold water until combined). Slowly stir into the stew.
Season with salt and pepper to taste.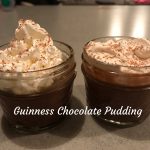 Click Here for Guinness Chocolate Pudding Recipe
Ingredients
8 Egg Yolks
1 Cup Sugar
1 Bottle Guinness Stout
3 Cups Heavy Cream
7 oz Chocolate, Bittersweet 70-72% chopped (I use 60% Ghirardelli Chips)
Directions
In large mixing bowl whisk together the egg yokes and sugar. Open a can of chilled Guinness from the refrigerator and slowly pour into 4-cup measuring cup, pouring down side of cup to reduce foaming. Pour half of Guinness (about 7/8 cup) into heavy-bottomed 3-quart saucepan.
Add 2 1/4 cups cream and whisk to combine. Set over medium heat and heat, whisking occasionally, until bubbles just begin to form at edges. Remove from heat, add the chocolate, and whisk until smooth.
Slowly pour hot chocolate mixture into eggs, whisking constantly to prevent curdling. Return mixture to saucepan and set over moderately low heat. Cook, whisking constantly, until mixture thickens and coats back of spoon, about 15 minutes. (The pudding will look separated.) Pour into blender and blend on high for 1 minute. Divide the pudding among the six old fashioned glasses, leaving at least 1 inch of space at the top of each. Cover with a plastic wrap and refrigerate until chilled and set.
Meanwhile, pour the remaining Guinness into small saucepan and bring to boil over medium heat. Reduce heat to moderately low and simmer, uncovered, until reduced to 1 tablespoon, about 20 minutes. Pour syrup into small bowl and let cool.
Beat remaining cream until soft peaks form. Add Guinness syrup and beat until combined. Divide cream among 6 glasses of pudding.
Until next time, Keep It Craft E!