As a new parent, there is more than enough to worry about. You investigate thoroughly the type of diapers to buy. Do you go cloth or disposable? If you go disposable – which brand? You spend countless hours on mommy blogs digging for the latest advice. You're already planning for your child's educational future. There's already so much on your plate and you'd just like one decision that's easy to make. Wouldn't it be nice if there were a blog out there that handed you a list of toys/toy makers that take the work out of it for you?
Your wish is our command.
When we are in the market for most anything, we really like to focus on the little guys first. The small businesses everywhere are the ones that sustain our local economies. These companies are also the ones that take the time to add small, personal touches to really make your purchases stand out from the rest. At Craft-E-Family, we really make an effort to build relationships with our customers. Over time, that allows us to know how we can step our service up a notch and make each buying experience the best it can possibly be.
We love looking for other "mom and pop shops" that add that same personal touch to their crafts. You can buy wooden toys pretty much anywhere, but it doesn't mean they're handmade. We wanted to find some authentic workshop toys that you and your family can enjoy for the coming months and years.
At Craft-E-Family, we're particularly proud of all of our kid's blocks like the ABC Blockset, Barnyard Blocks and personalized baby and adoption blocks. With all of these blocks, we use solid white maple wood and they are treated only with beeswax. No chemicals are used on our children's blocks.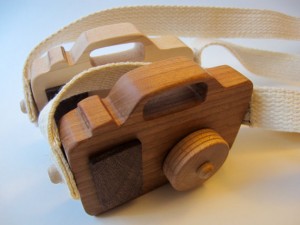 Fact + Fiction  is a small business that started as Little Adventure Toys. This year, they started a new chapter and became Fact + Fiction. We love this company not only because they're focused on wooden toys as well, but they also are as passionate about the environment as we are. Safety is a major concern for Fact + Fiction and that's evident in the design of their toys. Very smooth, rounded edges prevail in the toy design on their Etsy store. One of our favorites on their store is the Wooden Toy Camera.We're big fans and we think you will be too!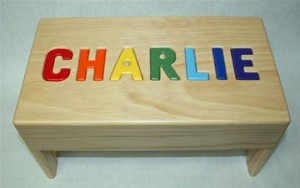 We're particularly fond of Rootin' Ridge Toymakers. Rootin' Ridge started in 1975. Specifically, they left their "real jobs" and started living their dream on April Fools Day in 1975. Their shop started in a very humble 8'x20' space. They began making wooden toys that day and have been living the dream ever since. Over the years, they've made toys, games, puzzles and even musical instruments. Late last year, they closed their brick and mortar to focus solely on an online presence. We're particularly fond of their Personalized Puzzles and Step Stools.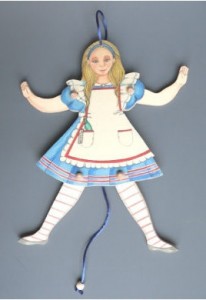 While wooden toys hold a very special spot in our heart, we were completely fascinated by Laughing Moon's Toy Makers Collection. Terrie and Richard Floyd have been toy making since 1967. Over time, they've learned to blend different genres of art into their collections. Laughing Moon specializes in handmade and hand painted Jumping Jacks and wooden clocks. The detail that goes into both products is unmatched. They're more than just toys and clocks. They truly are works of art. As we scrolled through the different products they offered, we found it hard to pick just even one or two that we loved. They're all beautiful.
We're so pleased to see such amazing toy makers out there that started from small beginnings and stuck with it to make successful businesses. We will continue to build them up the way that others have built us up through the years. Take a look at these incredibly talented makers. If you see something you like, purchase it from them. Small business truly does make our economy go-round. They may not be Craft-E-Family, but they really do #KeepItCraftE.